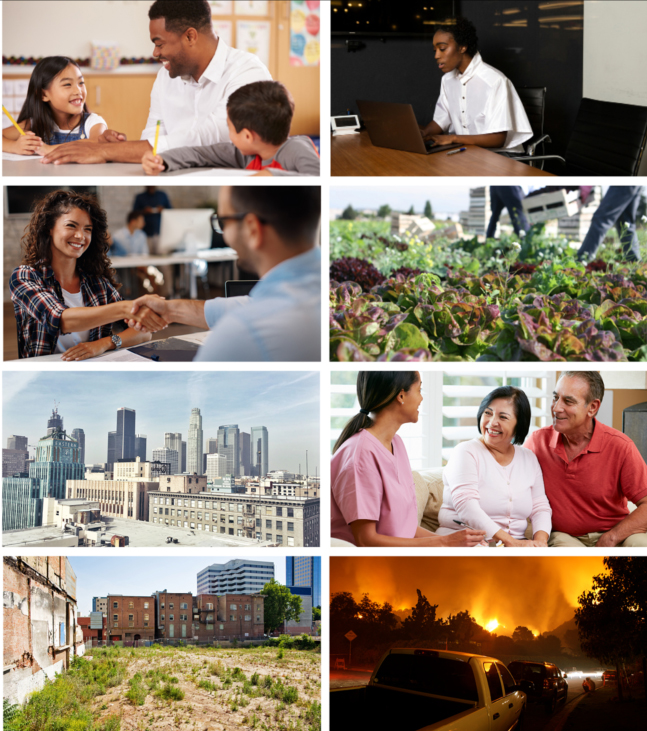 We understand that we will need to invest significant effort and resources to achieve our vision, and that success will require unprecedented collaborative effort backed by strong and sustained multi-sector leadership. 
Results of the magnitude we envision will not happen with a 1, 3, or even a 5-year time frame. It will take bold action, patience, and deep commitment that will outlast, and even outlive, us. We know it will be many years, if not decades, before the full fruits of our labor can be harvested.  We expect our children – and their children as well – will carry on after us to advance successful strategies that achieve long-term inclusion, economic participation, and equity, and that neutralize policies that have had a deleterious effect on our communities.
In the meantime, we are committed to doing everything within our reach to vigorously pursue short-and long-term goals.  We will marshal our resources, our creativity, our voice, and our hope to push as far and as fast as we can.
To this end, we agree to operate within a set of shared principles to catalyze and sustain highly impactful engagement and collaboration.
BOLDNESS: We will challenge ourselves to be creative, courageous, and unbound by convention.



PARTNERSHIP:

 We will place those who are most deeply affected by the systems and institutions that perpetuate racial and gender inequity at the center of this effort.




COLLABORATION:

 We will seek to collaborate on an unprecedented scale with business, government, nonprofits, and the community to achieve our vision.



ACCOUNTABILITY: 

We will invest significant effort, take risks, and practice fortitude to see our vision to fruition. We will hold ourselves accountable to each other,
our partners and the community in this work.

ORGANIZATIONAL TRANSFORMATION: We will make the commitments and sacrifices necessary to achieve the transformation we seek within our own institutions.



CREATIVITY: 

We will embrace traditional and new approaches to tackling touch problems.



TRUTH:

 We will speak up individually and with one voice when we are witness to actions that marginalize, exclude, silence, or otherwise jeopardize the safety or well-being
of the people, groups and institutions in our communities, including but not limited to people of color, women, queer people, transgender people, low-income people,
differently abled or disabled people, incarcerated people and people with incarcerated loved ones, youth, older adults, and immigrants.
RESILIENCE: We will invest the time and resources necessary to preserve and restore the energy and capacity required to sustain our hope in the face of inevitable
resistance, obstacles, and setbacks.