The Evolving Needs of California Nonprofits Through COVID-19: Key Learnings from Catchafire
Table of Contents:
---
The Philanthropy California team spoke with our friends at Catchafire, a partner of the Annenberg Foundation, Weingart Foundation, and several other California grantmakers. Catchafire provides grantmakers with custom programs to enable capacity-building and operational support at scale for nonprofits, primarily by matching them with virtual, skills-based volunteers. In this blog, its team shared with us what they've learned about the needs of California nonprofits during the coronavirus pandemic. 
Even during times of health and economic prosperity, many nonprofits operate under tight financial and human capital constraints, and rely on skills-based volunteers to address critical organizational needs and expand operational capacity. As the devastating effects of COVID-19 have reverberated throughout the country, the nonprofit community has indicated that their operations and funding have been upended, and that they will need significant external support to keep their doors open. 
In California specifically, we are seeing an increase in the number of nonprofits who need immediate virtual support with marketing and communications, technical assistance, and program management in order to adapt to the changing landscape. Physical distancing mandates throughout the state have crippled programs and dried up fundraising. 
Nonprofits across the board —from health and human services, to arts and culture, to youth development, environmental justice, and education — have been thrust into survival mode. Given the urgency of the moment, it will take a collective effort from the private, public, and philanthropic sectors to provide much-needed infrastructure for our nonprofit community to sustain through the crisis. 
Below we share survey data that Catchafire collected when the pandemic broke out mid-March, and the support our nonprofits have been asking for since then. It has informed our response to the crisis and shaped our programmatic changes. We hope that by sharing our findings, we can contribute to the collective learning of the sector.
Survey Research Summary | Operations & Funding Have Been Upended
On March 17th, Catchafire surveyed 450+ nonprofits throughout the United States to understand how they were impacted by COVID-19 and their immediate needs to help to sustain operations through this crisis and beyond. 70 respondents came from California-based nonprofits, representing a diversity of focus areas, budgets, and staff sizes. At a high level, we found that California nonprofits reported similar challenges to nonprofits throughout the country, which include: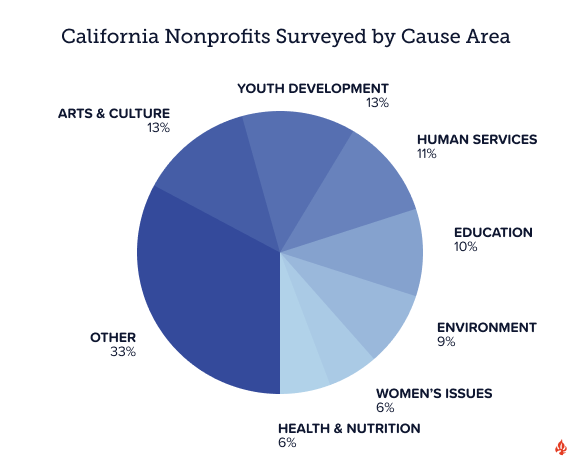 Severe, sudden capital constraints.

Nonprofits are facing a dramatic reduction in funding primarily due to canceled in-person fundraisers (69% reported), loss of fee-for-service revenue (51% reported), and decrease in individual donations (33% reported).

A need to take all fundraising digital.

Nonprofits are seeking alternative fundraising strategies (70% reported), but fear it won't be enough — so they're calling on philanthropy to address resulting funding gaps from the COVID outbreak.

Limitations on program delivery.

Nonprofits are limited or in many cases, unable to offer programming due to social distancing mandates (81% reported). They need the most support pivoting to digital strategies in order to fulfill their missions and  sustain operations through the pandemic and beyond.

An abrupt shift to remote work.

Most nonprofit staff have switched to remote work or will do so shortly (83% reported), and nearly half need help to improve their virtual collaboration skills.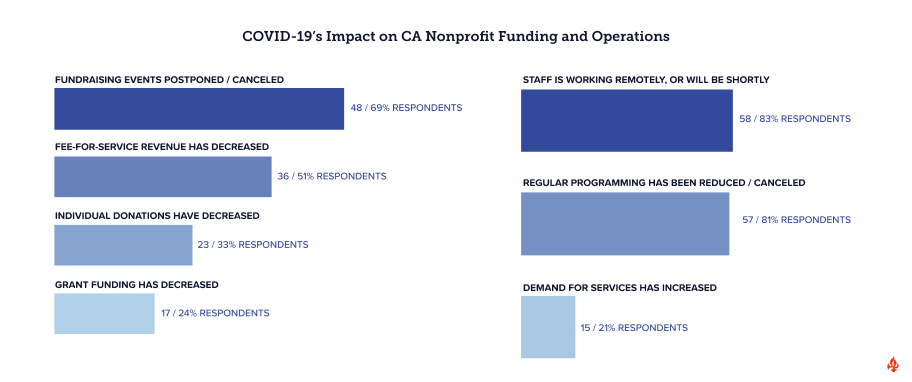 Through anonymous open-ended responses, Catchafire observed anxiety around the future and ability to sustain operations – one nonprofit in Burbank wrote, "we are concerned COVID-19 will be a protracted event that will limit our ability to sustain operations long-term," and another in Mountain View wrote, "everyone is affected emotionally and mentally by the uncertainties financially and the unknowns of how the virus will personally affect us - will we get sick, how bad? Counseling and coaching for self and team care would be helpful in the context of the nonprofit space."  We also observed uncertainty around the status of restricted grant funding, including this nonprofit in Los Angeles who wrote, "we're concerned about what will happen about grant funding we got for programs that may get canceled."
Despite the challenges, we've also seen a tremendous commitment from nonprofits to continue fulfilling their missions – organizations of all shapes and sizes are making the best use of their resources to adapt to the changing landscape, as demonstrated in Catchafire's virtual volunteering marketplace.
Prominent Need Areas | MarComm, Technology, and Program Management
Based on our marketplace trends since the COVID-19 outbreak, Catchafire observed that California nonprofits have the greatest need for support in marketing & communications, technical assistance, and program management
Catchafire has  had 462 requests from California nonprofits for virtual, skills-based volunteers since the beginning of March – a 32% uptick from the previous 6 weeks. About half of these requests have been directly related to needs that have arisen due to COVID-19, whether that's setting up online collaboration tools for internal teams, working on alternative fundraising tactics for in-person events, or finding creative ways to continue serving beneficiaries despite program cancellations.
Beyond an increase in the volume of support needed, we're seeing the types of support needed shift holistically, too. Needs are moving away from traditional capacity-building requests such as professional development (time management coaching, public speaking coaching), and increasingly towards timely must-haves like ad-hoc research requests for software and services, website configuration that's easily updated as situations change, and translation services for mission-critical communications.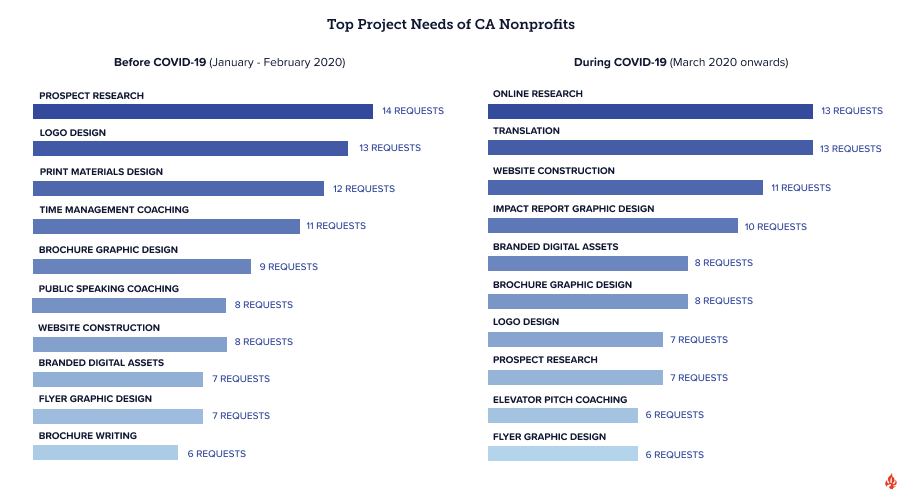 A surge in interest from virtual volunteers has made it possible for nonprofits of all focus areas and stages of crisis response to gain critical operational support. Within 24 hours of posting their volunteer request, Homeward Bound of Marin had critical COVID-19 safety information translated into Spanish for residents of their shelter and supportive housing programs. Students Run LA, whose program participants were fortunate enough to complete the marathon just days before LAUSD closed schools, has been working with design volunteers to help engage their high school students via social media – ensuring that they maintain a disciplined academic and athletic schedule in the confines of their own homes. For a deeper view of how nonprofits are working with virtual volunteers at this time, see our Impact page.
Concluding Thoughts
Based on our research and Catchafire marketplace data, we believe that at this time, nonprofits would benefit the most from a funding approach that supports their short-term survival and long-term recovery. Clear communication with grantees around funding changes is instrumental in aiding nonprofits as they navigate the ambiguity of the moment. Immediate changes several of our grantmaking partners have already employed that we would recommend include: 
Converting all programmatic/project-specific grants to general operating support. 

Lifting or limiting reporting criteria on all existing grants. 

Expediting grant cycles and payment schedules to disperse funds as soon as possible.

Modifying future grants to be multi-year, general operating support.

Special focus on technical assistance and virtual nonprofit resources. 

Decreasing grant application demands for emergency and crisis funds. 

When possible, operating as an advocate to the state and federal government to pass policy that will increase nonprofit aid and stimulus. 

When possible, bearing the responsibility of increasing 2020 funding rather than decreasing available funds. 
Given that 77% of Catchafire survey respondents had fewer than 25 staff members, and a quarter have already experienced a reduction in grant funding, it is recommended that grantmakers distribute their support equitably to include organizations with smaller staff sizes and operating budgets. Furthermore, while Catchafire intentionally did not collect demographic data of the organizations surveyed, they have heard from partners that the points above are further exacerbated for nonprofits led by people of color, and that funders must have an equitable lens to ensure that these organizations can withstand this crisis.
Catchafire has had the privilege of working with the Annenberg Foundation and the Weingart Foundation in support of over 700 nonprofits throughout Southern California, as well as with the San Francisco Foundation and the Walter and Elise Haas Fund on programs in the Bay Area. They feel a deep commitment to supporting the nonprofit community and collaborating with philanthropy and civil society. If you're interested in learning more about their programs or would like to collaborate, please contact us at partnerships@catchafire.org.