Philanthropy California Goes to Washington, D.C.
This spring, Philanthropy California made its debut on Capitol Hill with our state's largest organized delegation ever. Our statewide delegation of 20 funders joined Foundations on the Hill (FOTH) to represent our sector with a united voice for public policy issues affecting philanthropy and the communities we serve. Formally established earlier this year, Philanthropy California is working to establish a stronger statewide philanthropic presence that bridges geographic and organizational boundaries and diverse interests among funders and improve opportunities for collaboration.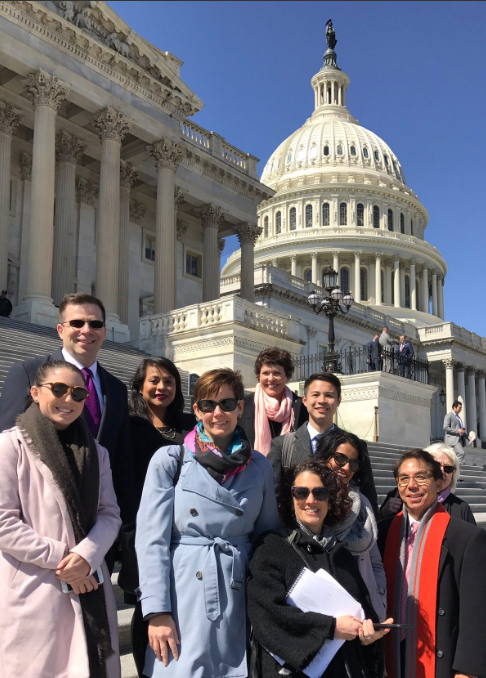 Through our nearly 30 legislative and agency visits during Foundations on the Hill, the Philanthropy California delegation sought to educate Members of Congress regarding several crucial issues affecting communities, including the federal budget, healthcare, immigration, and the sector's role in nonpartisanship. Additionally, at the invitation of Rep. Pete Aguilar (San Bernardino), the CEOs of our three associations shared their vision for collaboration and action with the California Democratic Caucus. This meeting gave the Caucus valuable insights into the role that Philanthropy California plays as a platform for funders across the state to engage a broad range of stakeholders and streamline efforts to support for nonprofits and our communities. Many of the legislators we met with expressed great excitement about the opportunity for Philanthropy California to tap into the deep regional expertise of funders as a way to increase our shared impact in building thriving, equitable communities. For next year's FOTH event, Philanthropy California also aims to meet with the Republican Caucus, reflecting our commitment to building relationships with all legislators, regardless of party affiliation.
Below are a few highlights of how our meetings brought to light the vital investments NCG members make across Northern California districts, as well as the ecosystem in which philanthropy, government, and citizens can act to strengthen communities and improve lives. These face-to-face meetings, many of which involved members from across the region, were an important way to demonstrate the role philanthropic partnerships have in achieving systems change and amplifying private investments, and connecting our state's efforts to national policymakers who could look to California as experts in this field.
SCG co-led a Congressional Briefing on Veterans Employment and Transition for Members of Congress in order to highlight the ability of philanthropy, nonprofits, and government partners to move the needle to better serve veterans. We covered successful efforts by veterans' organizations to increase veterans' employment and help the transition from military service after separation.
Senator Kamala Harris encouraged our delegation to continue focusing on criminal justice reform, specifically in areas related to re-entry and implicit bias training. Senator Harris also pledged that her staff will facilitate connections between Philanthropy CA and law enforcement programs to provide additional perspectives on criminal justice reform.
The Administration of Children and Family Services met with our delegation to learn about the exciting partnerships between grantmakers and government focused on child welfare. SCG highlighted our members' collaboration with LA County's Office of Child Protection to create the Center for Strategic Public-Private Partnerships.
We shared information with policymakers related to how changes in federal funding streams could affect healthcare access, including community clinics in rural areas.
We educated Members of Congress and their staff about the need to preserve the nonpartisan space for nonprofits to operate. Delegation members shared our concern about proposed legislation to repeal the Johnson Amendment, which prohibits nonprofits from taking a position in support of or in opposition to a candidate for elected office.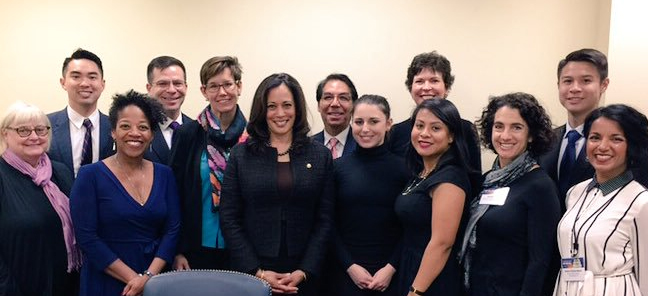 The relationships that we established, sustained, and nurtured during these visits will be crucial as Congress returns from its spring recess to consider potential legislation affecting healthcare policy, tax reform, and infrastructure spending. We were also thrilled to provide Northern California funders with a unique opportunity to work together with colleagues from across the state and to access instrumental policymakers in the nation's capital. By highlighting our sector's achievements in innovative policy solutions, our delegation helped to guide policymakers to solutions based on the knowledge and experience of our members.