Philanthropy California Welcomes Kathleen Kelly Janus, Governor's New Senior Advisor on Social Innovation
Dear colleagues,
Today, Governor Gavin Newsom appointed Kathleen Kelly Janus to serve as the state's first Senior Advisor on Social Innovation. 
This new position in the Office of the Governor elevates the role of philanthropic and nonprofit organizations as innovators. Philanthropy California was instrumental in building the appropriate partnerships to establish this bridge between government and the social sector. Together, we can address social problems in a state with the fifth largest economy in the world and one of the highest rates of economic inequality in the country, where dramatic wealth gaps persist. 
We enthusiastically welcome this move by the governor, positioning California to realize our changemaking potential. The appointment of Kathleen Kelly Janus illustrates that our state's philanthropy sector is poised to take cross-sector collaboration to the next level. Working with Ms. Janus, who has a keen understanding of what innovation looks like, will bring philanthropy and nonprofits together to better serve all of California, especially those furthest from the centers of power.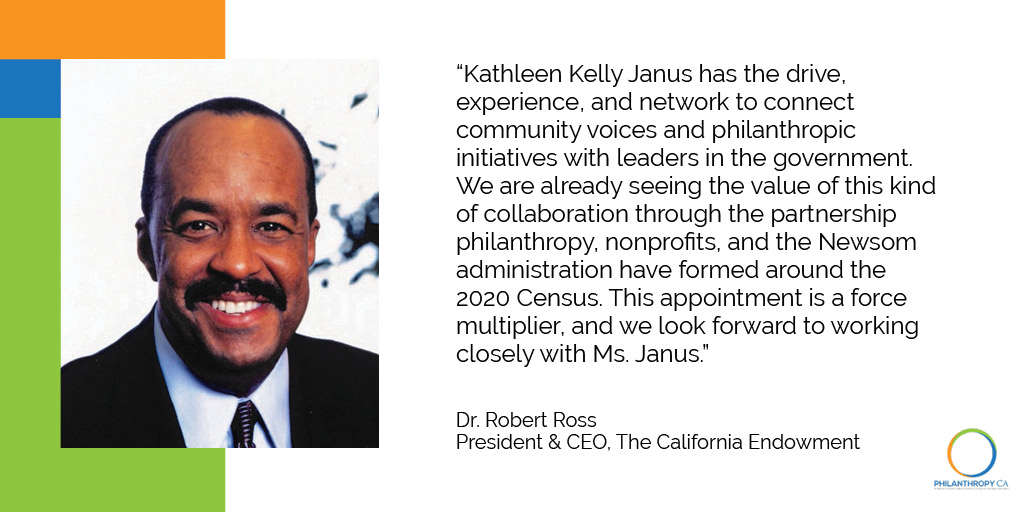 We have an abundance of fresh, innovative ideas in our communities and the social sector. We are grateful for an infusion of energy to propel these ideas into reality with all the relevant partners involved. Establishing the Senior Advisor on Social Innovation role builds a space for those of us working to tackle our state's most pressing problems to come together from our unique positions to collaborate more effectively.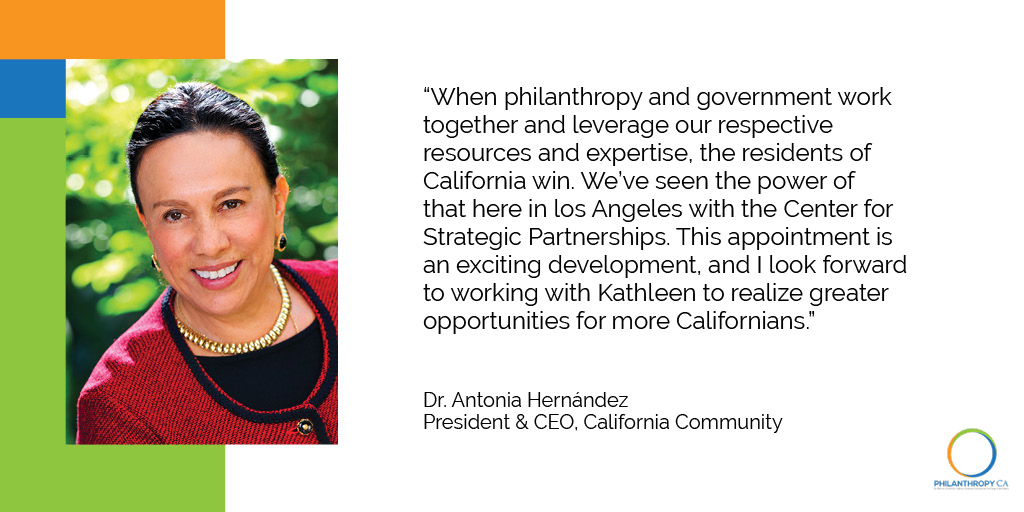 Our beautiful and diverse geography, immense cultural and economic resources, and, most of all, the wealth of human potential represented in the rich diversity of our people are California's unrivaled assets. Everyone stands to benefit from the improved collaboration between nonprofits, philanthropy, and government this position heralds for our state.  
Christine Essel
President & CEO
Southern California Grantmakers

Ellen LaPointe
President & CEO
Northern California Grantmakers

Debbie McKeon
President & CEO
San Diego Grantmakers
Status
Successful and office was created.