Protecting Families Campaign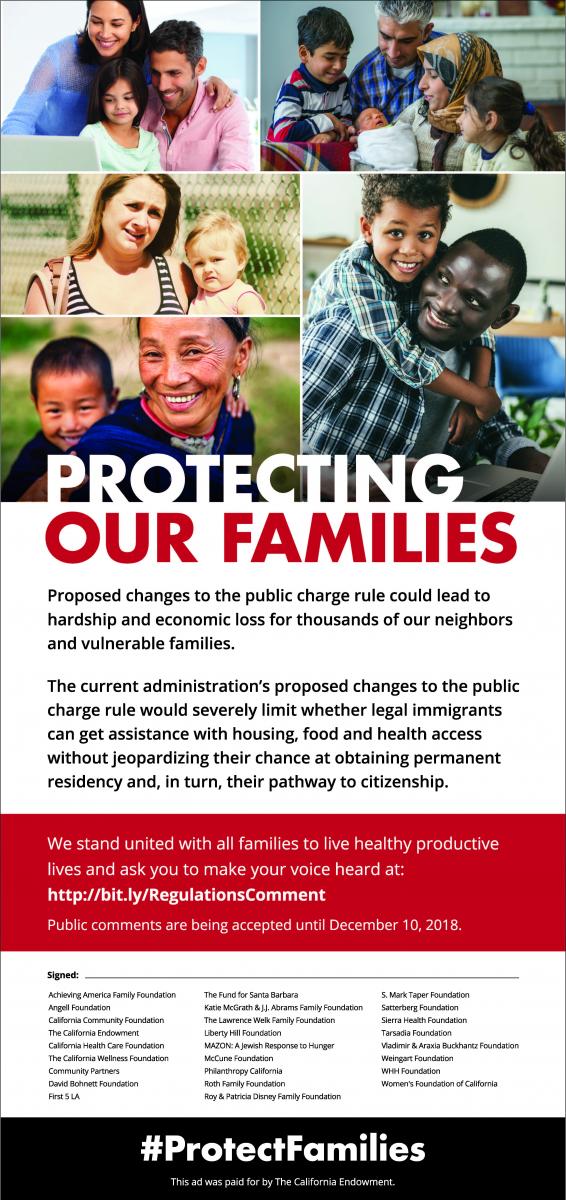 On October 10, the "public charge" rule was published in the Federal Register for public comment. This rule would make people choose between the things they need and the people they love while favoring the wealthiest in our immigration system.
Across the nation, advocates, providers, and communities are pushing back against a cruel and unnecessary immigration policy that would worsen the well-being, health, and stabilities of millions of children and families. Alongside over 1,500 organizations nationwide, Philanthropy California signed onto the Protecting Immigrant Families Campaign statement opposing the rule. 
Philanthropy California is launching a #ProtectFamilies campaign to urge foundations across California to oppose the rule by submitting a unique comment to the Federal Register. Philanthropy's voice is critical to building the body of evidence as to why the proposed rule will have lasting negative consequences for our society, our economy, and our communities. 
In collaboration with Grantmakers Concerned with Immigrants and Refugees, Philanthropy California will provide members with resources, talking points, and guidance for submitting public comments, as well as individual assistance to members who are interested in submitting a comment opposing the proposed rule.  Please note: Submitting comments as part of the rule-making process is not lobbying and permissible for private foundations. Our goal is to generate 20 unique comments in 60 days! 
As three foundation leaders recently wrote in the following op-ed, "Philanthropy cannot afford to stand on the sidelines." Your voice matters — join us in standing up for our deepest values and for all of our communities. 
Protecting Immigrant Families Campaign Members: 
Bigglesworth Family Foundation
California Health Care Foundation
The California Endowment
The California Wellness Foundation
East Bay Community Foundation 
Evelyn and Walter Haas, Jr. Fund
Grove Foundation
The Health Trust
Heising-Simons Foundation
Latino Community Foundation
Marin Community Foundation
The San Francisco Foundation
Silicon Valley Community Foundation
van Löben Sels/RembeRock Foundation
Women's Foundation of California
Zellerbach Family Foundation
Learn More About Public Charge
Watch this video explaining the public charge rule and why it is major threat to immigrant families: