Standing with Immigrant Families: Philanthropy California Opposes Final Public Charge Rules and Encourages Philanthropy to Take Action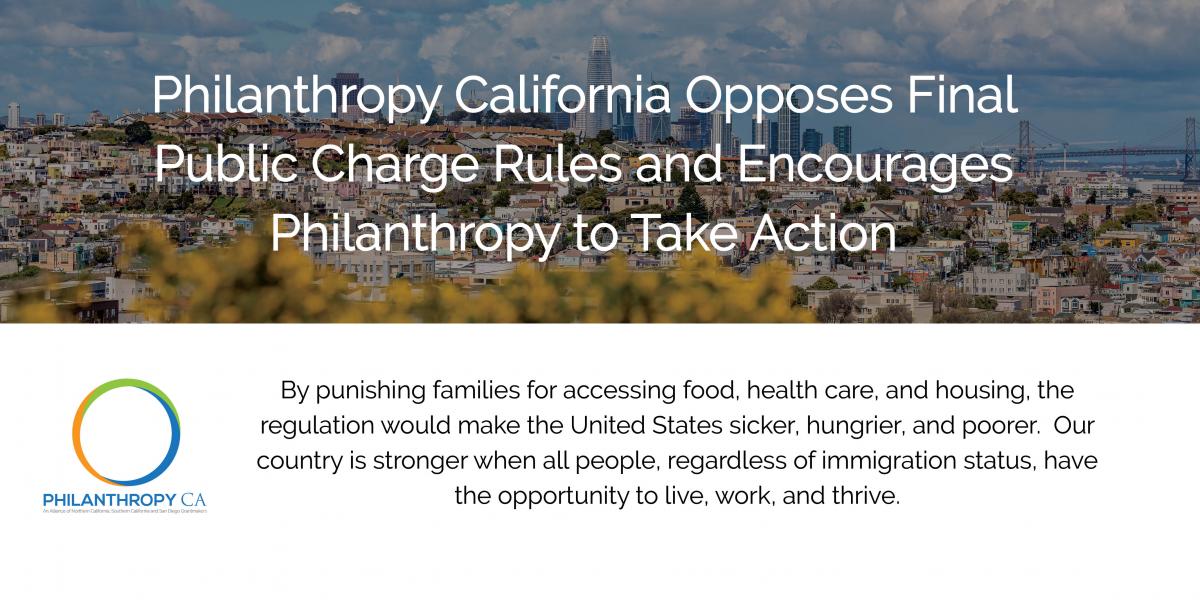 This week the Administration finalized the public charge rule, placing the health and well-being of millions of families at risk.  
The public charge rule will effectively bar immigrants from obtaining legal permanent residence if government determines they are likely to utilize government benefit programs such as food stamps or subsidized housing. The rule essentially forces families to decide between legal permanent residence, and a pathway to citizenship, or  life-saving healthcare, food assistance and housing support. 
The finalized public charge rule is counter to our nation's most fundamental values, and philanthropy simply cannot replace the scope and scale of government funding for core human services that support the wellbeing of our communities. Philanthropy California stands with advocates and communities across the country in our unwavering opposition to the public charge rule.  
In December, Philanthropy California joined hundreds of advocates, providers, and funders in rejecting this harmful immigration policy that departs from longstanding immigration policy in place for nearly two decades.  The final rule in effect would worsen the well-being, health, and stabilities of millions of children and families already living in the U.S. and would fracture communities across the country. Philanthropy California, in partnership with Grantmakers Concerned with Immigrants and Refugees, mobilized over 30 foundations across the state to oppose the rule as a part of the national Protecting Immigrant Families campaign. In total, more than 266,000 people and organizations, overwhelmingly in opposition to the rule, submitted comments – the highest number during any comment period.    
Despite the Administration's efforts to weaponize basic needs programs, the new public charge rule will not go unchallenged. Already legal challenges have been filed to prevent the rule from going into effect. Additionally, Congresswoman Judy Chu (District 27 - California) introduced the No Funds for Public Charge Act (H.R. 3222), which would prevent any federal funds from being used to implement the proposed rule.  Most importantly, service providers and community-based organizations are mobilized to provide on-the-ground support to families who are threatened by this rule.  
Funders can play a critical role in protecting the health and well-being of immigrant families. Below are specific actions that funders should consider:  
Providing funding to 

support 

rapid response efforts 

and expanded services 

by community-based organizations and providers to ensure that immigrant families are a

ble to receive the advice, supports

, and services they require

;

 

Fund

 litigation

 by legal advocates to challenge the public charge rule and consider opportunities to 

partner as litigation progresses (e.g. amicus briefs);

 

Prioritize advocacy and power-building

 in grantmaking to 

build a long-term movement infrastructure that will outlast the necessary and immediate response to public charge

; and

 

Use your voice to 

speak out

 against the public charge rule and other federal efforts that seek to 

marginalize low-income, immigrant, and LGBTQ communities and communities of color.  

 
By punishing families for accessing food, health care, and housing, the regulation would make the United States sicker, hungrier, and poorer.  Our country is stronger when all people, regardless of immigration status, have the opportunity to live, work, and thrive.