Building Wildfire Resilience in the West: Megafire - The New Abnormal | Session 2
About this Series
Western landscapes have always burned and always will. The more we suppress fire and change the climate, the more catastrophic wildfires become. How can we make communities and wild lands more resilient in the age of megafire?
About the Session
Wildfire has long shaped California and Western ecosystems, with historic cultural fire and naturally-ignited fire burning at low-intensity through landscapes at least once every 30 years. Land management practices and fire suppression, plus increasing populations at the wild-urban interface, have caused a significant increase in catastrophic wildfire frequency and severity over recent decades. If we stay the course, CA and other western landscapes will lose the vast majority of their forests to climate change and megafire with profound impacts to public health, economies, biodiversity, and water. Solutions are plentiful but have lacked the attention and investment needed to adequately scale them in time.
Session Objectives
This session focuses on why "normal" fire has become "megafire," what the future looks like, and what's at stake.  
Gain a shared understanding of how land use, land management, energy policy, and climate change have created the era of megafire
Learn about the role Native Americans played in landscape resilience in the past and how they are shaping a "culture of fire" for the future
Illuminate opportunities, including policy interventions and carbon and water markets, to speed and scale community and forest resilience solutions
Speakers
Dr. Kimiko Barrett, Research and Policy Analyst, Headwaters Economics
Dr. Barrett enjoys engaging with people on complex issues such as community resilience, adaptation, and vulnerability. Born and raised in Bozeman, Montana, she appreciates the intimate connections people have with the land. After obtaining undergraduate degrees in Political Science and Japanese, Dr. Barrett completed a Master's in Geography from Montana State University and a Ph.D. in Forestry from University of Montana. Her doctorate research focused on climate change impacts in high mountain ecosystems and took her to remote places in the western Himalayas. Dr. Barrett is a Research and Policy Analyst at Headwaters Economics and manages the Community Planning Assistance for Wildfire (CPAW) program, which provides communities land use planning and technical assistance to reduce wildfire risks. When she's not working, Kimi enjoys traveling, downhill skiing, backpacking, interpreting maps, and picking huckleberries.
Helge Eng, Deputy Director, Resource Management, CALFIRE
Helge has over 25 years of forestry experience, including working in other countries as a forestry consultant. In 1992 Helge started his CAL FIRE career as a timber supply analyst at the Fire and Resources Assessment Program. He promoted in 1995 to Forester I then Forester II in 2002. From 2002-2005 he was responsible for forest inventories and harvest scheduling on the State Forests. In 2005, he promoted to Deputy Chief to become State Forest Program Manager. His most recent position was Assistant Deputy Director, Resource Protection and Improvement.
Michael Mann, Distinguished Professor of Atmospheric Science at Penn State, Department of Geosciences and the Earth & Environmental Systems Institute (EESI) 
Dr. Mann is Distinguished Professor of Atmospheric Science and Director of the Earth System Science Center at Penn State. His research focuses on climate science and climate change. He was selected by Scientific American as one of the fifty leading visionaries in science and technology in 2002, was awarded the Hans Oeschger Medal of the European Geophysical Union in 2012. He made Bloomberg News' list of fifty most influential people in 2013.  He has received the Friend of the Planet Award from the National Center for Science Education,  the Stephen H. Schneider Award for Outstanding Climate Science Communication from Climate, the Award for Public Engagement with Science from the AAAS, the Climate Communication Prize from the American Geophysical Union. He received the Tyler Prize for Environmental Achievement 2019 and was elected to the National Academy of Sciences in 2020. He is a Fellow of the AGU, AMS, GSA, AAAS and the Committee for Skeptical Inquiry. He is co-founder of the award-winning science website RealClimate.org, author of more than 200 peer-reviewed and edited publications, numerous op-eds and commentaries, and four books including Dire Predictions, The Hockey Stick and the Climate Wars, The Madhouse Effect and The Tantrum that Saved the World.
Margo Robbins, Cultural Fire Management Council Member, Yurok Tribe 
Margo Robbins is the co-founder and executive director of the Cultural Fire Management Council (CFMC).  She is one of the key planners and organizers of the Culture Burn Training Exchange (TREX) that takes place on the Yurok Reservation twice a year. She is also a co-lead and advisor for the Indigenous People's Burn Network. Margo is an enrolled member of the Yurok Tribe, she gathers and prepares traditional food and medicine, is a basket weaver and regalia maker. She is the Indian Education Director for the Klamath-Trinity Joint Unified School district.
Stephen Pyne, Emeritus Professor at Arizona State University; Wildland and Rural Fire Expert and Author  
Steve Pyne is an emeritus professor at Arizona State University. He has been at ASU since 1985. He has published 35 books, most of them dealing with fire, but others on Antarctica, the Grand Canyon, the Voyager mission, and with his oldest daughter, an inquiry into the Pleistocene. His fire histories include surveys of America, Australia, Canada, Europe (including Russia), and the Earth. The Ice: A Journey to Antarctica was named by the New York Times to its 10 best books for 1987. Fire in America: A Cultural History of Wildland and Rural Fire won the Forest History Society's best book award. He has twice been awarded NEH Fellowships, twice been a fellow at the National Humanities Center, enjoyed a summer Fulbright Fellowship to Sweden, and has received a MacArthur Fellowship (1988-1993). In 1995 he received the Robert Kirsch Award from the Los Angeles Times for body-of-work contribution to American letters.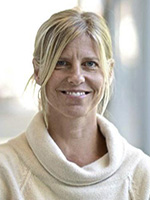 Allison Wolff, CEO, Vibrant Plant (Moderator)
Allison's expertise is strategy and narrative development, and building brand and product experiences. After overseeing the development of the Netflix brand and digital experience she advised corporate and nonprofit leadership teams on vision, strategy, and social and environmental innovation. Clients have included Google, eBay, Facebook, Chan Zuckerberg Initiative, Omidyar Network, Patagonia, Nike, HP, Drawdown, Conservation International, and GlobalGiving. After digging deep on the impacts of climate change and megafire on California's forests, she is now leveraging her skills, network, and commitment to develop solutions for forest and landscape resilience and carbon drawdown.
Other Events in this Series
Target Audience
This program is open to all funders (NCG, SCG, SDG members and non-funder members). 
Presented by: